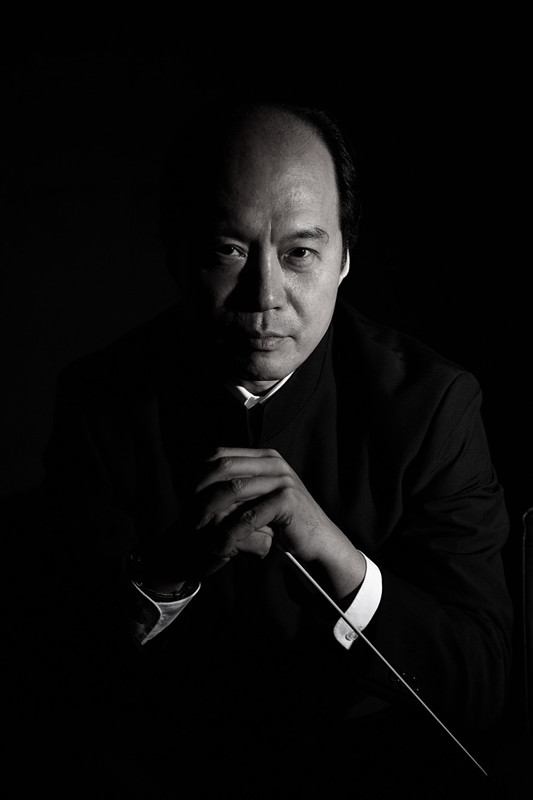 Guoyong Zhang
Zhang Guoyong began his study in conducting at the Shanghai Conservatory of Music under the direction of the famous conductor, Prof. Huang Xiaotong. In 1993 he was sponsored by the Chinese government a four years' study at the Moscow State Conservatory named after Tchaikovsky, where he studied under the world famous conductor Gennady Rozhdestvensky and later was granted the PhD in music. He is now the Professor of the Shanghai Conservatory of Music, principle conductor of the Shanghai Opera House and the music director of the Qingdao Symphony Orchestra.
In his career he has cooperated with numbers of well-known opera houses and orchestras both at home and abroad. Having a large repertoire including symphony, opera, ballet and symphonic chorus he is expert in Russian works, especially Shostakovich's symphonies.
His style of conducting is brief, natural and full of intelligence, tension and infectiousness. At the same time his conducting is bearing a combined characteristic of passion and sense. Wherever he performed, he always impressed the audience and musicians with his sharp hearing, strong basic skills, efficient rehearsal method and appropriate handling to the music structure.
In recent years he was invited as national representative to take part in those important international events, such as the gala concert of the "Sino-American Culture Year", "Sino- French Culture Year", "Sino- German Culture Year", "Sino- Russian Culture Year", "Sino- Latin America Culture Year" etc.
In 2014, he conducted NCPA's HDMI opera movie Carmen and Rickshaw Boy and won acclaims. In the next year, he was invited to join the NCPA's tour to Italy. In 2016 he conducted the China Philharmonic's premiere in Russia.
In 2006, he was invited to be the jury of the 8th Cadaques International Conducting Competition in Spain.
Maestro Gennady Rozhdestvensky once told the music critics," I gave Zhang Guoyong the highest marks in the Moscow State Conservatory's history. He will always have a place in any orchestra all over the world."
Zhang Guoyong is now the Vice Chairman of Shanghai Musicians Association and the Vice Chairman of China Musicians Association.Zhang Guoyong is currently the Music Director of Guiyang Symphony Orchestra.